Trends of 2020
Mixing Old & New
Sustainability and environmentalism are going to be big topics of the next decade and this will transform industries. This trend is already emerging in the real estate industry where renewable energy and car behaviors are changing the ways we design homes. The same goes for materials where builders, such as my wife, are spending more time at Restore and other salvage stores searching for materials of decades past to recycle in their new construction homes. A desire to bring warm, earthy elements to a space has become increasingly more important as people are more ecologically conscious and knowledgeable than ever before. This movement is becoming a trend of design and are the styles of the years ahead. Expect to find a lot of mixing and matching of old and new.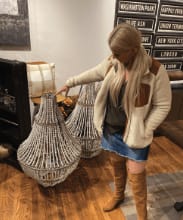 ‍Styles
An ongoing trend to increase our connection with nature, particularly at home, has returned styles of the past which also incorporate biophilic design. Perhaps the most famous architect of biophilic design was Frank Lloyd Wright who emphasized the human-nature connectivity through his architecture. It will not be surprising to see mid-century modern, coastal, southwestern and Scandinavian minimalism as design trends of the next year. Also popular are industrial and eclectic touches that create unique statements through lots of color, warmth and antiques.
Brass and Metallics
After decades of trying to remove brass, brass accents are returning. Though not in their polished state, brass fixtures such as matte finish and brushed gold have helped bring it back into kitchen designs. A key theme for design this year is to incorporate more contrast, and brass is able to achieve that by creating a pop with black or dark kitchen cabinets paired with brass or gold hardware.
Patterns
Patterns such as chevron and herringbone first started in 2019 and their popularity has grown. From flooring, to tile accents, to throws and pillows—patterns are becoming a great way to add more drama and style. Inspired by glamorous and timelessly chic spaces, patterns create bold designs against simple pieces of furniture and interior backdrops. My favorite is the return of plaids, but whatever you add, keep in mind that layered patterns from tile to textiles, designs have one simple trend: there aren't any rules, pattern everything.
Natural Colors
By now you see a pattern, a trend towards environmental awareness. Grey was the trend of the last decade and demand is shifting to natural colors and warmer toned palettes and rich accent colors. Bold colors such as cobalt blue, sage green or dark purples such as aubergine, the color of eggplant, are adding traditional elegance to formally neutral spaces. Creating contrast is an important design trend to add warmth and character to the space. Painting interior doors in a rich color can achieve this contrast against white painted trim. When in doubt, look for earth tones. A few suggestions include shades of chocolate brown, wine, olive green, and yellow ochre.
Wood
Wood as a natural element—commonly painted throughout the last decade—is coming back into the trend spotlight. Wood adds warmth to spaces. Popular styles like mid-century modern and Scandinavian minimalism use a lot of wood accents as their themes. Notably uses of wood include wooden beams which can draw attention to the room's height by drawing eyes upward while adding contrast to the otherwise all-white space. Wood paneling such as slatted walls, shiplap and colorful woods are great ideas to add texture to spaces. For flooring, look for richer, darker colors that create cozy spaces. Such as walnut, mahogany and dark oak. Other lighter colors include honey-toned species like oak and maple.
Biophilic design influencing
Popular styles such as
Mid-century modern, coastal, southwestern, Scandinavian
Minimalism, industrial and eclectic.