Each year the National Association of Home Builders (NAHB) hosts the International Builder Show (IBS). The show, hosted at the world's largest convention center in Las Vegas, has not been back to Las Vegas since January 2020, pre-pandemic. The show features over 4.6 million square-feet of booths and exhibits showcasing the latest design, construction and trends in home construction and houses. Contractors, builders, and interior designers from all over the world descend on Las Vegas to learn and see the latest products and design trends which I attended last week.
The biggest trend this year was COLOR and not just adding color but adding VIBRANT colors.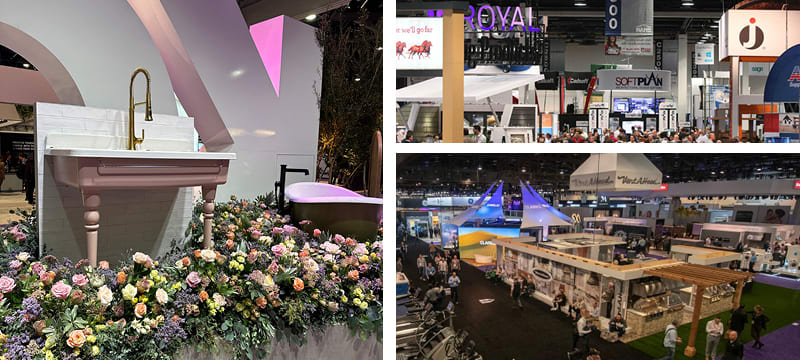 Color Pops Everywhere
Adventurous colors were a theme form everything from tile to wallpaper to appliances to eclectic accessories. The takeaway: bright and bold colors are an emerging trend. The neutrals and whites from the pandemic are fading away and being replaced with the chance to create brighter and more vibrant spaces. I'm even adding tropical wallpaper to my powder room this month!
Appliance Colors
Appliance colors from pastels to vibrant colors such as green were showcased at the International Builder Show. My favorite: forest green paired with gold hardware, as seen at the GE Café (range) and True (refrigerator) booths. Never thought I'd fancy a green appliance—hello '60s—but this pop brings a level of sophistication that needs an introduction to a boring kitchen!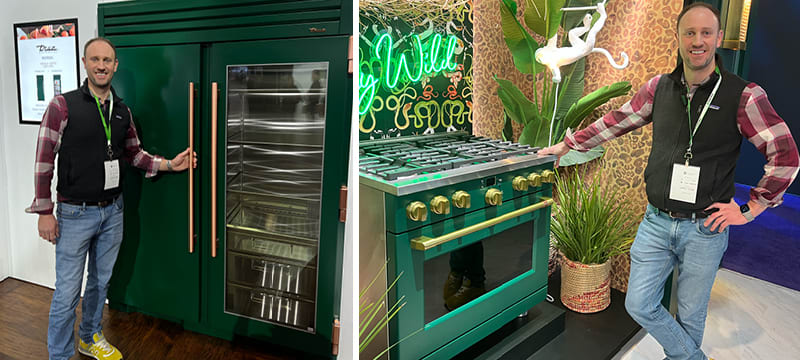 Kohler Design
One of my favorite displays was the Kohler booth which showcased everything from their plumbing faucets to their latest shower fixtures to their new line of light fixtures. Two additional take-aways they were pushing were mixing metals and the return of color, vibrant colors. Mixing metals is a big trend this year as monochromatic colors fade away and mixing metals such as chrome with brass or black and gold are trending as a shiny and layered interior design fad. Further expanding this trend, bright colors were showcased including a display that had different colored toilets ranging back to the 1930s lined up for attendees to vote on their favorite. The winning two archived colors, "peachblow" and "spring green," will be released this summer. The colors were originally released and produced in 1927 and 1979. Looking for a pop of color or have a retro-theme in mind—look for these heritage colors available on everything from toilets to vanities to tubs released later this year.