The most popular room in the house continues to be the kitchen. It's the center of daily lifestyle and has become equally important to socializing and having guests as private homeowner use. Here are three trends and improvements to the design of today's kitchen that I advise many of my new build clients:
𝟏 The first trend is large islands—a place for socializing, prepping food, just hanging out or home offices and countertops for home-school desks. Islands have become larger with at least four chairs to seat the whole household. Single-level counters are preferred with seating on the end or other side of the island to allow perpendicular conversation. Cooktops and sinks are being moved from the island to the walls to accommodate a larger island surface. Because islands are one of the main aesthetics to a kitchen, owners are upgrading the aesthetics with cabinet panels on the ends and backs or an additional set of cabinets under the overhang. Islands are also a great place for a pop-of-color (more on that shortly).
𝟮 Another trend popular to the kitchen is clutter management and that begins with a pantry. The old Lazy-Susan trend is out and is now replaced with walk-in pantries. Pantries are now equipped with plenty of outlets for kitchen appliances. Outlets are important to hide clutter that used to be on kitchen counters used for dedicated coffee bars and counter kitchen appliances such as toasters. What else can you put in a pantry? That built-in microwave as the microwave hood is sooooo, sooooo out!
𝟯 The last trend common in kitchens is adding fun elements. The white-on-white kitchens are becoming less common but if there is white a contrasting element such as dark trim, unique wood or color accent on another portion are common. Walnut, blue, or green islands have become popular adding a little more energy to the space. Heavy-duty and well-designed ranges are cited by homebuyers to be the most important element of the kitchen both for utility and aesthetic purposes with powerful cooking abilities and impactful appearance. Large, heavy-duty ranges—often commercial-grade—are a central focal point to many new kitchens.
As we spend more time in kitchens, trends and changes to the design will continue with discussions and discoveries of the new needs and lifestyle of dysfunctional kitchens. Send me your thoughts on what I am missing!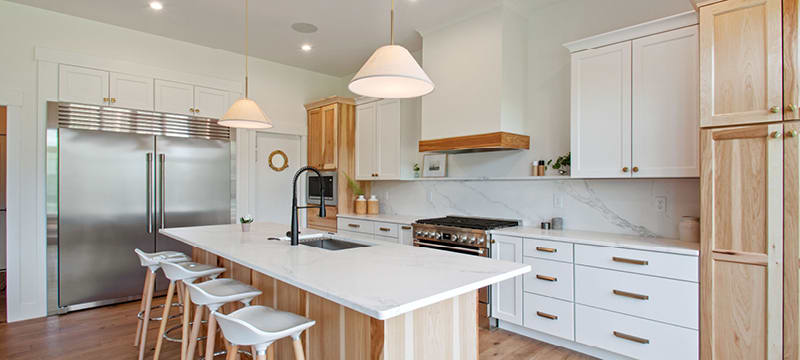 ABOVE: A two-toned cabinet combination adds hickory cabinets to the white kitchen and includes an island with seating on two sides, as seen in Dave Manley's 2022 Minimal Traditional new build.